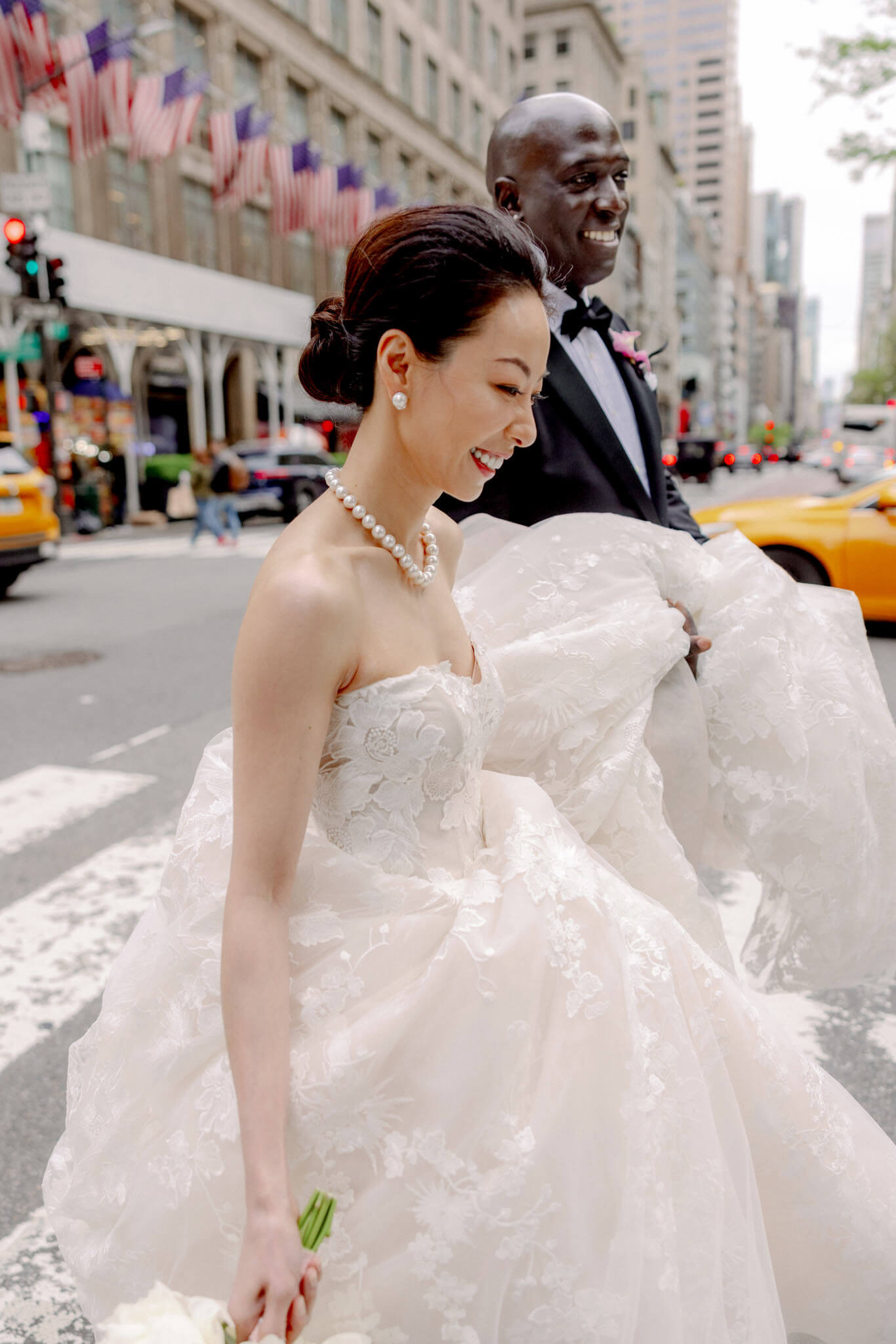 C + D's love story started in the most peculiar place, Rikers Island–C is a psychiatrist, and D is a retired veteran working as a guard. The two couldn't believe the attraction to one another, and C asked D out on the first date!
C always planned to have her family alongside her -all living internationally in Asia and the UK. This is because she had not seen her family in over three years due to the pandemic. And when she finally had her New York Wedding, it was a tremendous and memorable celebration. With the help of Colin Cowie, a NY wedding planner expert, everything turned out beautifully. Colin Cowie Lifestyle is a luxury wedding and event planner catering to clients worldwide. 
Luxury Wedding
C + D both got ready and had their first look photos at the elegant Lotte New York Palace Hotel. Then, they took a few minutes to walk to their wedding venue, 620 Loft and Garden. The bride selected a lace embellished bridal gown from Monique Lhuillier, while the groom wore a classic black Ralph Lauren tuxedo. They hired Creative Edge Parties for catering, who provided exquisite food. And they chose Jenevieve Peralta for their Floral installations because of their team's ability to transform beautiful flowers into grand showpieces. 
Bruce Thompson Creative Services Inc. took care of the decor, and Calen Rose Creative immortalized the beauty of the decor through photos. They had a live band by On The Move Entertainment, while Bentley Meeker Lighting & Staging Inc. did perfect lighting. And to top it off, Milk & Honey Productions did the videography, and Jenny Fu captured all the emotions and beauty of this elegant NYC wedding through editorial-style photography.
Vendor Credits:
Photographer | Jenny Fu
Wedding Planner | Colin Cowie Lifestyle
Wedding Venue | 620 Loft and Garden
Getting Ready Hotel | Lotte New York Palace
Lighting & Staging | Bentley Meeker Lighting & Staging Inc.
Catering & Event Planning | Creative Edge Parties
Event Production | On The Move Entertainment
Florist | Jenevieve Peralta Floral Design
Full-service decor sourcing, production, and installation | Bruce Thompson Creative Services, Inc.
Decor Photographer | Calen Rose Creative
Videographer | Milk & Honey Productions