Have you dreamt of pulling off mismatched bridesmaid dresses, but don't know where to start? We've got answers!
Having mismatched bridesmaid dresses has become very popular over the years. Not only is it a beautiful way to have your bridesmaids express their own personal style, but it's also a great way to allow them to spend what they're comfortable with. Here are a few ways to ensure your wedding vision isn't compromised, and your bridesmaids get to wear what they're stoked about!
Color Palette
First things first, we recommend giving a color palette to your crew. Having a hard copy (let's face it, a shared Pinterest board) of colors to choose from will ensure you don't tell them "shades of pink" and someone comes out of the limo in fuschia. Even if it's a few different swatches that work well together, it will help each of your bridesmaids to choose what color speaks to them – and also speaks to you.
The Length
If you're looking for the full mismatched look, you may decide to choose different length bridesmaid dresses. But, it's oh so important to make sure there is a good mix of lengths happening. Otherwise, your bridal party photos can look awkward if everyone goes for long dresses except one, or vice-versa. Whether you choose all floor-length gowns, a classic cocktail dress, or varying lengths based on the dress and the bridesmaid, make sure you stick to a hemline or have balanced options on the table.
Tie the Look Together
When alternating all of the above, it's important to have one design component that ties all the looks together for a cohesive aesthetic. Maybe everyone has the same beautiful hoops, or bracelets? (You can give these as bridesmaid gifts, too!) Or you could represent each of the dresses colors with florals in the bouquets! Whatever you choose to do, having a little piece that unites everyone will make your wedding feel complete and comfortable.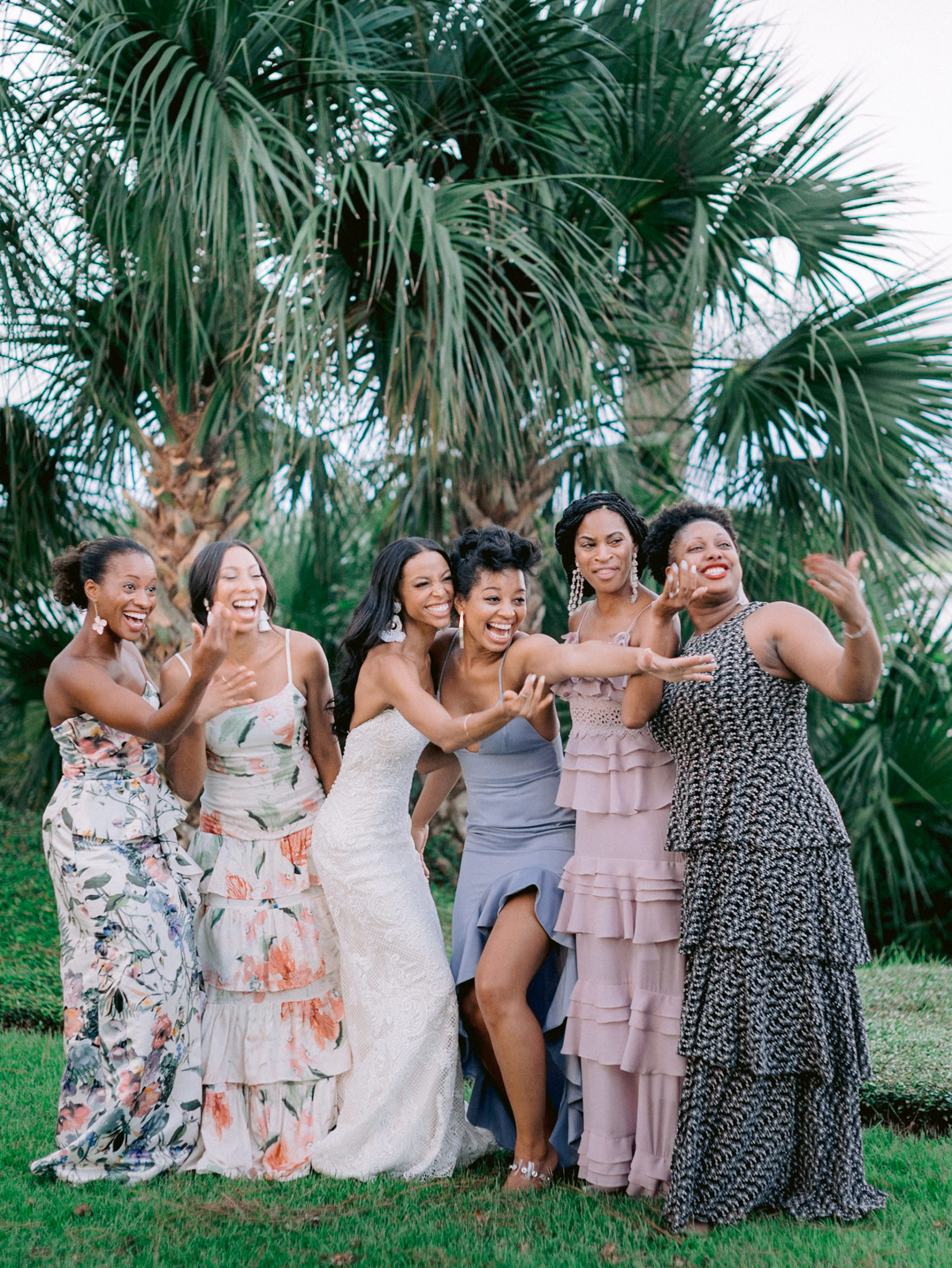 Talk to Your Crew
Don't assign, listen. It's important not to forget, these are your people – so talk to them and include them! The beauty of having mismatched bridesmaid dresses is that each person can showcase their own vibe, while still fitting into your desired vision. We can guarantee your bridal party will be more than grateful to have their voices and concerns heard. Bustier bridesmaids may want a more modest neckline, while some may want a fitted curvalicious dress. Some may not have a preference whatsoever, but since you have the room for discussion take this opportunity to give your peeps a choice.

They Will Never Wear This Again
LOUDER – for the people in the back!! Your bridesmaids will never wear this dress again. Why? Because it will forever feel like a bridesmaid dress!

What do you think? Weigh-in and let us know on our Instagram stories! Just remember, as much as it's your day (and of course, it is) it's kind of theirs too. You've trusted these special friends to guide you on your wedding day, so let them have a little fun and feel sexy!